Posted: June 11, 2021
Dear North Otter families,
Over the past few weeks, students have been busy demonstrating their learning and completing year-end assessments.  Teachers have been working closely with students in order to identify their current proficiency levels in their academic courses, and reflecting on their accomplishments throughout the year.  It's hard to believe that there are only two (and a bit) weeks left of the school year! Please take an opportunity over the next few weeks to discuss your child's successes with them (there are many for all of us to celebrate!) and encourage them to finish off the year strong.  In spite of so many challenges this year, it has been a pleasure to watch students learn, grow and thrive in unusual circumstances.  Their resilience and accomplishments deserve to be celebrated.
Take a look at what we've been up to!
Around the School…
Reflecting on the Week
We have all been impacted by the recent discovery of 215 children at the Kamloops Indian Residential School.  Over a week ago, the Tk'emlúps te Secwépemc First Nation announced that a survey by a specialist in ground-penetrating radar discovered the remains of approximately 215 children who were buried at the site.  As a district, and as a school community, this has been a time for us to engage in some difficult conversations (in an age-appropriate manner) and reflect on Canada's history.  Classes have participated in a variety of learning activities to understand the impact that residential schooling continues to have on our communities.  We are all on a journey towards truth and reconciliation, and as a school we have started that process through listening, learning, and engaging in a dialogue that helps us to understand more about our collective history and identity.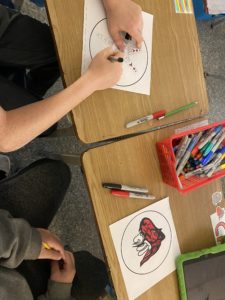 More Virtual Field Trips!
Last week, Ms. Ewert and Mr. Garland took their classes on a virtual field trip to the Greater Vancouver Zoo! Students were engaged in a variety of scientific discoveries, learning about different animals within the zoo.  We have been fortunate enough to have many of these virtual field trips occur at North Otter this year.  Thank you to our PAC for helping to fund and organize these engaging learning opportunities for our students.
Kindergarten Welcome
Last week, Ms. Robinson, Ms. Smith and Ms. Thiessen welcomed our newest Otters to the school at our "Kindergarten Welcome" drive-thru event.  We are happy to report that, as of today, we have 54 new kindergarten students joining our school.  As a school community, we look forward to providing a warm and welcoming environment for our youngest students in the fall.  Welcome to North Otter!
Gaga Ball!
Our new gaga ball pit has created a great deal of excitement around the school.  Every day at recess and lunch time, the pit has been filled with students who are eager to play the game.  Approximately 90% of the students in a cohort participate in gaga ball at recess and lunch.  Students watched a video demonstrating the rules and regulations of the game, and a supervisor helps to mediate and referee.  A huge thank you to our PAC for yet another investment in our students.  Our kids have really enjoyed this addition to our outdoor play space!
Salmon Habitats
Ms. Skwarok has been working with the grade 1's and 2's to learn about salmon and their habitats.  One of the ways in which they demonstrated their learning was through a diorama project.  Over the past few weeks, whenever I visited the class, students were eager to share their projects and the additions they had made as they learned more about salmon.  Students were engaged in their learning and created some exceptional projects! Thank you, Ms. Skwarok, for this opportunity to showcase your students' understanding.
Rainbow Fun Day
With health and safety protocols in place, we are excited to host a year-end "Rainbow Fun Day" on Friday, June 25.  Similar to a sports day, this will be a day for students to participate in a variety of fun and exciting activities.  Cohorts will be spaced out throughout the school grounds (front and back) and will rotate through several different stations.  Hand washing and cleaning protocols will be established to ensure that we are following all PHO guidelines.  Unfortunately, we will not be able to invite parents to our event.  Look for more details from classroom teachers in the coming weeks.  We encourage everyone to be as BRIGHT as possible (many colours, anything goes!) to celebrate the end of the year through this fun and exciting event.
From the District…
Community Bulletin Board
Check out the latest information, programs and services available for students and families through the district's Community Bulletin Board:
https://www.sd35.bc.ca/news-events/community-bulletin-board/
Transportation Registration
A friendly reminder from the District, Friday June 18th is the last day for transportation registration under our regular phase. If you have not registered your child, please do so as soon as possible. For information on how to register read more on our District webpage here. 
Census 2021
You may or may not know that the 2021 Census is underway. It has been a challenging year for families, and the census might seem like another thing on everyone's busy to-do list. The District is assisting our Stats Canada partner in communicating this information and encouraging families to complete their census. Census data helps governments at all levels plan for schools, transportation, community centres, libraries and recreational activities. Data from the 2021 Census will be even more crucial, because it will help to evaluate the impact of the pandemic and to better plan for the future. You can quickly and easily complete your census questionnaire at www.census.gc.ca using the access code you received in the mail. If you need assistance or would like to have a paper (or alternate format) questionnaire, please call the Census Help Line at 1-855-340-2021. Thank you for doing your part to help plan for a better future for all Canadians.
Upcoming Dates…
June 15 – PAC Meeting @ 7 PM on Zoom
June 21 – Indigenous Peoples' Day
June 25 – Rainbow Fun Day / PAC Pizza Lunch
June 28 – Grade 7 Farewell Drive Thru, 3 pm – 6 pm (details e-mailed to grade 7 families)
June 29 – Last Day for Students, Dismissal @ 11:30; Report Cards Posted on MyEd