Posted: June 29, 2021
Dear North Otter families,
This month, Ms. Robinson's kindergarten class used the core competencies to reflect on their school year.  One of the exercises that the students worked on was an "I Wonder" assignment.  Ms. Robinson shared the following example with me: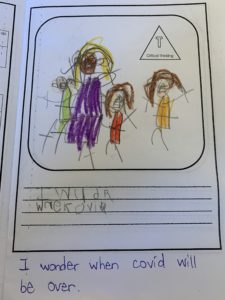 This student's work reminded me of the impact that the global pandemic has had on our school community.  Students have had to adapt and adjust to a "new normal" for over 15 months, and have sacrificed many things along the way.  They have shown resiliency, optimism, and flexibility, but the impact of COVID-19 on their lives (and ours) will undoubtedly be felt for years to come.
As we head into the summer, there is a great deal of hope and opportunity that lies before us.  As restrictions begin to ease, we see a return to a more typical way of life.  I am proud to look back on all that has been accomplished over the past year, but I am also mindful that there will be lasting effects that we must be prepared to address.  I am confident that the North Otter community will take on this challenge and do everything they possibly can to support our students moving forward.
On a personal note, I want to thank you all for an incredible year together.  It has been an honour and a privilege to serve this school, and I will look back on this time with fond memories for many years to come.  North Otter is a special place, and I feel very fortunate to have been a small part of its history, if only for a brief time…
Our office will be open tomorrow (Wednesday) and will then be open again next week on Monday, Tuesday, and Wednesday.  Please don't hesitate to reach out via phone or e-mail during these days if you require any information or assistance before the office closes for the summer.
Take a look at what we've been up to over the last few weeks of the school year!
Around the School…
Year End Events
Classes were able to have a variety of year-end events to cap off the year and to celebrate the learning that has occurred.  The kindergarten and grade one students in Ms. Smith and Ms. Thiessen's classes, for example, created their own cardboard cars and were invited to a "drive in" movie event in the gym.  The grade 7's also took part in a stepping stone project and a tie dye t-shirt activity to cap off their elementary career.  The highlight, though, was last Friday's "Rainbow Fun Day" for all students.  It was a great way to spend time connecting in a variety of ways through fun and exciting games and activities.  A HUGE thank you to Mrs. Phelan, Ms. Williams, Mrs. Spence, Ms. Sawatzky and Ms. Sidhu for organizing this event.  Also, thank you to our generous PAC who provided pizza, chips and freezies! It was an incredible day of joy and connection that hinted at what life might be like (back to a sense of "normal" for us all?) when we return in September.
Farewell Assembly
Today, we held our "Farewell Assembly" via Teams for our students.  During the assembly, we shared a year end video with everyone.  If you'd like to take a look for yourself (and I encourage you to do so!) you an access it here.
We also had the opportunity to say a special farewell to our grade 7 students.  Classes made signs and banners, and we surprised the grade 7 students with a procession around the exterior of the school to celebrate the end of their elementary career.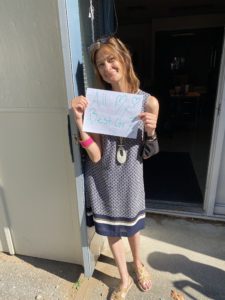 Goodbyes
As we finish off the year, we are saying "goodbye" to several familiar faces at North Otter who are moving on to other opportunities.  We want to thank them all for their dedication and commitment to our school community.  We wish them all the very best in their next adventures!  Goodbye, farewell, and thank you to:
Ms. Diane Yates, Strong Start Teacher
Mrs. Nanette Jackson, Aboriginal Support Worker
Mrs. Leah Dale, Special Education Assistant
Ms. Melissa Cox, Special Education Assistant
Mr. Jesse Van Rees, Grade 6/7 Teacher
Ms. Sarah Klann, Grade 3 Teacher
Mrs. Elaine Wallace, Grade 6/7 Teacher
Congratulations, Mrs. Thomas!
We are also saying goodbye to a staple of the North Otter community, Mrs. Ulla Thomas, who will be retiring at the end of the month.  Mrs. Thomas has been a dedicated Youth Care Worker in the Langley School District for the past twenty years, and has spent more half of that time here at North Otter.  Mrs. Thomas will be honoured and remembered here at the school for her steadfast commitment to supporting students and advocating for them and their families.  Thank you, Mrs. Thomas, for everything! We wish you a peaceful, relaxing and joyful retirement.  We are forever grateful for the impact you have made on our school community.  You are leaving behind a legacy of care that will be felt for years to come.
From the District…
FVRL 2021 Summer Reading Club
Crack the Case! Join FVRL's 2021 Summer Reading Club online or in person starting June 21st. There's a club for everyone, with activities, weekly draws and great prizes!
SD35 Communications Survey
Our District has shared an unprecedented amount of information with families over the last 15 months. To help the District plan communications in the future, please have one parent/guardian per family complete the following online survey prior to July 9, 2021. This survey should take 5-10 minutes and your responses will remain confidential and anonymous.
Thank you for helping the District improve its communication to families. Complete the survey here. Translated versions of the survey can be found on the District's webpage here and below:
Simplified Chinese        Traditional Chinese
HAVE A GREAT SUMMER, NORTH OTTER!